Workshop on New Perspectives for Target Antigens in the Changing Cancer Immunotherapy Landscape
November 5, 2015
Gaylord National Hotel & Convention Center

Organizers
Victor H. Engelhard, PhD – University of Virginia School of Medicine
Brad Nelson, PhD – BC Cancer Agency
Paul F. Robbins, PhD – National Institutes of Health/National Cancer Institute
Robert D. Schreiber, PhD – Washington University School of Medicine
Program Purpose
This program provided a comprehensive picture of current efforts that utilize emerging technologies to gain a better understanding of the nature of clinically effective anti-tumor immune responses. Reagents that block checkpoint inhibitors have been shown to provide long term clinical benefits in a variety of malignancies, including melanoma, lung, kidney and bladder cancer—findings demonstrate that patients with these cancers possess endogenous T cells capable of mediating tumor regression.
Attempts to identify potent cancer regression antigens have focused on whole exome analysis of tumor and matched normal DNA, coupled with RNAseq analysis, to identify nonsynonymous somatic mutations expressed by individual patients' tumors. Targeted therapies, such as the use of kinase inhibitors, have also shown promise in treating some malignancies.
The studies have led to a more complete understanding of the nature of the antigens targeted in clinically effective immunotherapies and the key molecules involved in restraining as well as enhancing these responses. The use of therapies combining the use of checkpoint inhibitors, adoptively transferred tumor-reactive T cells, anti-cancer vaccines and targeted therapies will hopefully lead to dramatically improved response rates and cures for patients with a broad array of tumor types.
Intended Audience
The target audience for this program included basic scientists and clinical investigators from academic institutions, industry and regulatory agencies—clinicians, translational and basic researchers, graduate students, and postdoctoral fellows involved in cancer research.
Educational Objectives
Upon completion of this program, participants are now able to:
Compare current approaches to the identification of tumor antigens, including genomic, proteomic and bioinformatic methods
Examine methods for isolating T cells, T cell receptors and chimeric antigen receptors for use in adoptive immunotherapies
Identify the opportunities and challenges associated with the development of effective cancer vaccines
Describe the results of studies aimed at identifying antigens targeted by checkpoint blockade
For information on continuing medical education credits available through SITC's Workshop on New Perspectives for Target Antigens in the Changing Cancer Immunotherapy Landscape, please visit our CME Credit page.
The SITC Workshop on New Perspectives for Target Antigens in the Changing Cancer Immunotherapy Landscape was supported in part by grants from AstraZeneca; Bristol-Myers Squibb; Genentech; Merck & Co., Inc.; and Pfizer Inc.
---

Americans with Disabilities Act
Event staff will be glad to assist you with any special needs (i.e., physical, dietary, etc.). Please contact SITC prior to the live event at +1 414-271-2456.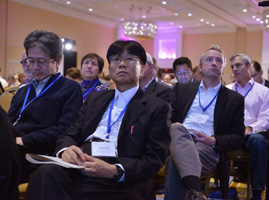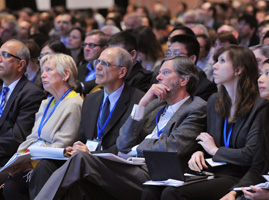 Save the Date!
Save the dates for SITC 2016!
November 9 – 13, 2016
Gaylord National Hotel & Convention Center, National Harbor, Maryland