SITC Workshop on New Perspectives for Target Antigens in the Changing Cancer Immunotherapy Landscape
The SITC 2015 Presentation Archive is supported through a generous contribution from AstraZeneca/MedImmune.
Access slide decks and video via the links in the schedule below.

= PDF of slides is available

= Presentation video is available
Program Schedule
Thursday, November 5, 2015

8 – 8:05 a.m.
Opening Remarks
Paul F. Robbins, PhD – National Cancer Institute/National Institutes of Health

Session I: Approaches used to Identify Tumor Antigens

2 AMA PRA Category 1 Credits™

8:05 – 8:35 a.m.
Use of Whole Exome and RNAseq Analysis to Identify Mutated Tumor Neo-Antigens
Elaine Mardis, PhD – The Genome Institute at Washington University School of Medicine
8:35 – 9:05 a.m.
Proteomics Strategies that Facilitate Tumor Antigen Identification
Victor H. Engelhard, PhD – University of Virginia School of Medicine
9:05 – 9:35 a.m.
Immune-regulation at the Tumor Site: Defining the Immune and Neoantigenic Landscape in Lung Cancer
Sergio Quezada, PhD – University College London Cancer Institute
9:35 – 10 a.m.
Panel Discussion
10 – 10:30 a.m.
Break

Session II: Characterization and Isolation of Specific T cells for Therapy

2 AMA PRA Category 1 Credits™

10:30 – 10:35 a.m.
Session II Introduction
10:35 – 11:05 a.m.
Use of MHC Multimers to Identify Tumor Reactive T Cells
John Haanen, PhD – Netherlands Cancer Institute
11:05 – 11:35 p.m.
Identification of Antigens Targeted by Tumor Infiltrating Lymphocytes to Enhance Adoptive Immunotherapy
Eric Tran, PhD – National Institutes of Health/National Institute of Health- Surgery Branch
11:35 – 12:05 p.m.
Evaluation of Strategies for T Cell Gene Engineering
Laurence J.N. Cooper, MD, PhD – University of Texas MD Anderson Cancer Center
12:05 – 12:30 p.m.
Panel Discussion
12:30 – 1:30 p.m.
Lunch

Session III: Antigen Discovery: Enabling the Next Generation of Immunotherapies

2.5 AMA PRA Category 1 Credits™

1:30 – 1:35 p.m.
Session III Introduction
1:35 – 2:05 p.m.
Targeting the Mutanome for Individualized Cancer Immunotherapy
Ugur Sahin, MD – University Medical Center of the Johannes Gutenberg University Mainz
2:05 – 2:35 p.m.
Antigens Targeted by Checkpoint Blockade
Alexandra Snyder Charen, MD – Memorial Sloan Kettering Cancer Center
2:35 – 3:05 p.m.
Control of Tumor Immunity in Humans
Catherine Wu, MD – Dana-Farber Cancer Institute
3:05 – 3:30 p.m.
Panel Discussion
3:30 – 4 p.m.
Final Overview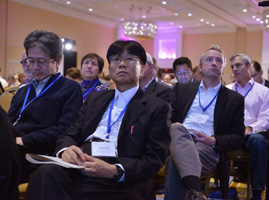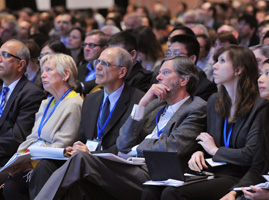 Save the Date!
Save the dates for SITC 2016!
November 9 – 13, 2016
Gaylord National Hotel & Convention Center, National Harbor, Maryland