Global Regulatory Summit
November 4, 2015
8 a.m. – 1 p.m.
The Sunset Room by Wolfgang Puck

Organizers
Ke Liu, MD, PhD – U.S. Food and Drug Administration
Patrick Celis, PhD – European Medicines Agency
Program Purpose
The Global Regulatory Summit provided attendees with key information from regulatory agencies in cancer immunotherapy product development from various regions of the world and promoted scientific exchange between academia, government regulatory bodies and industry. The attendees of this program learned about and participated in the discussion on a variety of specific regulatory considerations and requirements, including pre-clinical and clinical trial issues, for immunotherapy products. Speakers focused their presentations on their country's regulatory perspectives and requirements as well as addressed audience questions. A panel discussion concluding the program addressed questions posed by both faculty members and the audience members in attendance.
Intended Audience
This interactive symposium assembled thought-leaders from around the world in the field to discuss regulatory barriers on a global level. The target audience for this program included clinicians, industry representatives, government representatives, translational and basic scientists, graduate students, post-doctoral fellows, as well as other allied health professionals who are involved in clinical trials in the area of immunotherapy product development.
Educational Objectives
Upon completion of this meeting, participants are now able to:
Evaluate regulatory oversight in different parts of the world, including the differences and similarities in regulatory approach in various countries.

Explain regulatory and scientific issues related to product, pre-clinical and clinical design and analysis in immunotherapy product development.

Summarize new and existing policies and guidelines for various world regulatory agencies.
The Global Regulatory Summit was supported in part by grants from AstraZeneca, Bristol-Myers Squibb, and Merck & Co.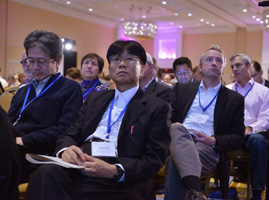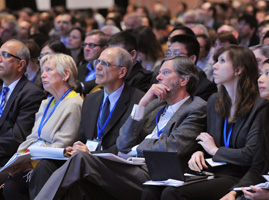 Save the Date!
Save the dates for SITC 2016!
November 9 – 13, 2016
Gaylord National Hotel & Convention Center, National Harbor, Maryland