SITC 30th Anniversary Annual Meeting
November 6 – 8, 2015
Gaylord National Hotel & Convention Center

Organizers
Sandra Demaria, MD – Weill Cornell Medical College
Madhav Dhodapkar, MD – Yale University
Pamela S. Ohashi, PhD – Princess Margaret Cancer Centre
Jennifer A. Wargo, MD – University of Texas MD Anderson Cancer Center
Andrew D. Weinberg, PhD – Earle A. Chiles Research Institute, Providence Portland Medical Center
Program Purpose
SITC's 30th Anniversary Annual Meeting provided a multidisciplinary educational and interactive environment focused on improving the outcome for current and future patients with cancer by incorporating strategies based on basic and applied cancer immunotherapy.
The meeting consisted of cutting-edge research presentations by experts in the field, both oral and poster abstract presentations and ample opportunity for structured and informal discussions, including important networking opportunities. In addition, the meeting included updates on major national and international initiatives coming from academia, government and industry, as well as important Society projects.
Additional information on the Annual Meeting session topics can be found here.
Intended Audience
The target audience for this program included basic and clinical investigators from academic institutions, industry and regulatory agencies, including clinicians, basic and translational researchers, graduate students, post-doctoral fellows, and allied health professionals involved in cancer research as well as pharmacists and payers, that wished to learn more about cancer immunology and immunotherapy, and its incorporation into current (and future) effective cancer treatment.
Educational Objectives
Upon completion of this meeting, participants are now able to:
Summarize and integrate the most recent advances in tumor immunology and cancer immunotherapy into basic, clinical and translational research
Analyze cutting-edge clinical trials to incorporate new research and techniques into clinical applications for cancer immunotherapy
Describe immune regulatory pathways that restrict and enhance immunity to tumor antigens, and identify respective targets for therapeutic interventions
Initiate and form collaborations among the various members of academia, industry, government and clinical practices to promote clinical evaluation of these advances in more efficient trials
For information on continuing medical education credits available through SITC's 30th Anniversary Annual Meeting, please visit our CME Credit page.
---
The SITC 30th Anniversary Annual Meeting was supported in part by grants from Amgen Oncology; AstraZeneca; Bristol-Myers Squibb; Genentech; Janssen Research & Development, LLC; Lilly Oncology; Lonza Biologics, Inc.; Merck & Co., Inc.; Novartis Oncology; Novartis Pharmaceuticals Corporation; Pfizer, Inc.; Prometheus Laboratories Inc.; and Provectus Pharmaceuticals

Americans with Disabilities Act
Event staff will be glad to assist you with any special needs (i.e., physical, dietary, etc.). Please contact SITC prior to the live event at +1 414-271-2456.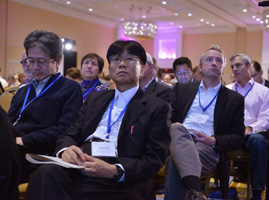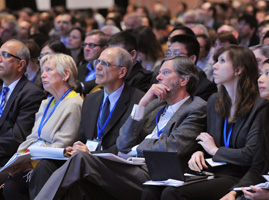 Save the Date!
Save the dates for SITC 2016!
November 9 – 13, 2016
Gaylord National Hotel & Convention Center, National Harbor, Maryland