30th Anniversary Annual Meeting Session Descriptions
Adoptive Immunotherapy
Recent publications have demonstrated remarkable successes of adoptive T cell therapy for cancer, such as the use of T lymphocytes genetically engineered to express chimeric antigen receptors (CAR) or T Cell Receptors. Adoptive immunotherapy targeting viruses may be leveraged to include CARs targeting B cell malignancies. Regulatory T cells have applications in the reduction of morbidity and mortality following stem cell transplantation. This session featured recent studies using multiple approaches to improve the efficacy of immunotherapies and the path forward from B cell malignancies to developing successful therapies for solid cancers.
Coinhibition & Costimulation
The emergence of agents aimed to modulate the activity of accessory proteins expressed by T cells has shown great therapeutic promise in cancer patients. In particular, blockade of CTLA-4 and PD-1 signaling with Abs have recently been approved for patients with melanoma and lung cancer. This session explored new pathways known to affect costimulation and coinhibition of T cells, which included OX40 (costimulation) and VISTA (coinhibition). The session also highlighted an immunotherapeutic combination that has shown great promise in a recent clinic trial (anti-CTLA-4/anti-PD-1). This field is in its infancy and as new data and targets emerge it will likely trigger a paradigm shift in the treatment of cancer for years to come.
Cutting Edge Clinical Trials
Antibodies targeting immune checkpoint receptors on T cells and their ligands in the tumor microenvironment have shown unprecedented ability to cause durable tumor regression in advanced metastatic cancers refractory to other treatments. Importantly, for a long time, only tumors considered relatively immunogenic such as melanoma and renal cell carcinoma were considered good candidates for immunotherapy.
We are now learning that the immunologic phenotype of a tumor, as reflected by the nature and extent of the immune infiltrate, may be more important than its histogenesis in predicting response to immunotherapy. We have also learned that conventional cytotoxic treatments can promote anti-tumor immune responses and potentially synergize with immunotherapy.
This session provided examples of cutting edge clinical trials informed by this new knowledge and testing the benefits of immunotherapy in novel combinations and in new tumor types. Immune biology-driven early clinical trials are showing promising results auspicious of a truly revolutionary change in cancer treatment.
Hot Topic Session on the Value of Cancer Immunotherapy
The Society hosts a Hot Topic Session to address rapidly developing key issues in the field of cancer immunotherapy. In this final session, leaders in the field delivered dynamic presentations on cutting-edge research and participated in interactive Question and Answer sessions with the audience.
Innate Immunity
Like adaptive immune effectors (e.g. T and B cells), innate immune effectors (both lymphoid and myeloid) have key roles in the tumor microenvironment (TME). Key innate cellular effectors include monocyte derivatives (e.g. macrophages), dendritic cells, granulocytes, and natural killer cells. Depending on the phenotype of the innate effectors, they can confer a protective effect against tumor initiation and progression. However, more often, the innate component is suppressive and maintains a tumor-promoting chronic inflammatory state, impairing adaptive immune eradication. In some cases, innate immune responses, triggered by tumor cells, are natural physiologic functions designed to maintain peripheral immune tolerance and promote wound healing. However, as tumors progress, the TME becomes deranged resulting in the accumulation of aberrantly differentiated myeloid effectors that are hostile to adaptive immunity. Such cells include myeloid derived suppressor cells and tumor-associated macrophages, which are widely associated with poor outcome and rapid disease progression. More recently, there has been reports that humoral innate effectors (e.g. complement) are also deregulated in the tumor microenvironment potentially suppressing immune eradication or contributing to growth. The focus of this session was to summarize established concepts of innate immunity in the tumor microenvironment as well as showcase new findings and mechanisms. The integration of our understanding of the role of innate immunity in the TME is generally expected to lead to novel therapeutics that could be combined with active or passive adaptive immune therapies fostering durable complete cancer regressions.
Mechanisms and Responses to Immune Therapy
Major advances in cancer therapy have been made in the past several years through the use of immunotherapy, however limitations still exist. To address these limitations, there are ongoing efforts to better understand mechanisms of response and resistance to these forms of treatment. This session focused on these efforts, and highlighted contributions of both host and tumor-related factors to responses to immunotherapy. Topics covered included use of host genomic and immune data to predict and modulate responses to therapy, as well as host and tumor-specific contributions to responses in animal models as well as in longitudinal samples from patients on therapy. Specific insights into how to improve responses to therapy were also discussed.
New Insights into T Cell Function
Generating a successful T cell-mediated, anti-tumor response is a multistep process, and one with diverse challenges. Understanding ways to optimize T cell function and overcome various inhibitory mechanisms inherent in the immune response and within the tumor microenvironment is imperative for generating improved longer-lasting therapies.
This session covered some of the newest insights into the cellular and molecular regulators of T cell immunity, and how these can impact tumor clearance.
Immunogenomics and Oncogenetics
Genetic approaches are revealing key determinants of productive immune responses in cancers. Recent work on human cancers has shown that responses to checkpoint blockade depend on the mutational load of tumors, with non-synonymous mutations creating neo-epitopes for T cell recognition. Expression signatures of human cancers can also reveal how cancers shape the composition of the immune infiltrate. The session covered cutting-edge genetic approaches in the investigation of tumor immunity and the creation of novel relevant mouse models.
Precision Immunology
Precision Immunology, like the broader field of Precision Medicine, seeks to customize therapies based on genetic or phenotypic groups of patients. In the case of Precision Immunology, this is based on immunological phenotypes, which are of particular interest for the application of new immunologically-based cancer therapies. As an example of this field, multiple studies recently showed that PD-1 and PD-L1 expression at tumor sites was predictive for melanoma patient responsiveness to PD-1-based immunotherapy.
This session expanded on this concept with speakers that discussed a range of related topics. Our invited speakers had done recent work showing the importance of the location of specific immune cell subsets in tumor biopsies, and the predictive power of neoepitope signatures derived from tumor DNA sequencing.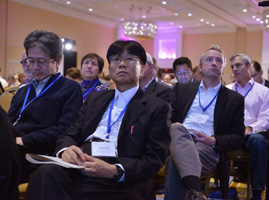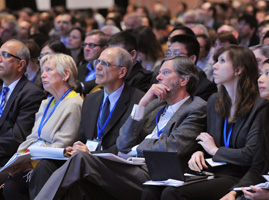 Save the Date!
Save the dates for SITC 2016!
November 9 – 13, 2016
Gaylord National Hotel & Convention Center, National Harbor, Maryland