SITC 2012 Awards
SITC is pleased to announce the 2012 award recipients honored at the Awards Ceremony held on Saturday, October 27. Supported by the Forward Fund, the awards are an opportunity to recognize the lifetime achievements of a key leader in field, as well as promote young and up-and-coming researchers.

Click here to view past SITC Award recipients.
Richard V. Smalley, MD Memorial Award
SITC selected Dr. Theresa L. Whiteside, PhD of the University of Pittsburgh as the 2012 Richard V. Smalley, MD Memorial Award recipient for her outstanding research, work and achievements in cancer therapy. As part of the award, Dr. Whiteside gave a keynote address at the Society's Annual Meeting titled, "The Immune Escape Games 2012:Targeting Tumor-Derived Death Ligands, Exosomes and Treg."

Established in 2005, this annual lectureship award is given in memory of former Society President, Richard V. Smalley, MD, to honor a luminary in the field that has significantly contributed to the advancement of cancer immunotherapy research.
A heartfelt thank you goes out to Dr. Whiteside for generously donating her $5,000 honorarium to the Forward Fund. The Fund was established by SITC to support research and educational opportunities for basic and translational scientists and clinical investigators who are focusing on cancer immunotherapy.
Theresa L. Whiteside, PhD
University of Pittsburgh
Presidential Awards
The SITC Presidential Award serves to recognize the young investigator deemed to have the most outstanding oral abstract presentation based on quality of research and methods, presentation of results and its impact on the field. The top four abstracts submitted in any category and authored by young investigators were selected for 20 minute oral presentations during the Presidential Session. Of those abstract presenters, all four received Presidential Travel Awards and one was selected as the 2012 Presidential Award winner. Congratulations to the following recipients:
Presidential Award Winner
Madhusudhanan Sukumar, PhD
National Cancer Institute
Bethesda, MD
Presidential Travel Award Recipients
Cesar Evaristo, PhD
University of Chicago
Chicago, IL
Nathan Singh
University of Pennsylvania
Philadelphia, PA
Claire Vanpouille-Box, PhD
New York University
New York, NY
Abstract Travel Awards
The SITC Abstract Travel Award serves to recognize outstanding abstracts submitted by young investigators. Congratulations to the following six young investigators who were selected to receive this award at the SITC 27th Annual Meeting:
Maria Libera Ascierto, PhD
National Institutes of Health
Bethesda, MD
Michael Postow, MD
Memorial Sloan-Kettering Cancer Center
New York, NY
David Rushworth
MD Anderson Cancer Center
Houston, TX
Huimin Tao
University of Michigan
Ann Arbor, MI
Seng-Ryong Woo, PhD
University of Chicago
Chicago, IL
Yan Yang
MD Anderson Cancer Center
Houston, TX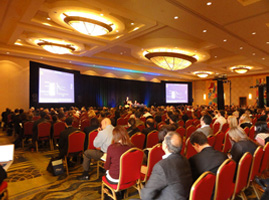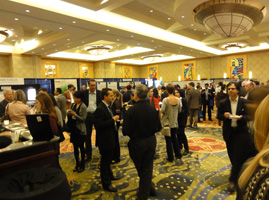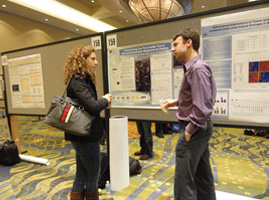 Go to SITC's YouTube channel to hear Annual Meeting Organizers talk about highlights of the meeting!
October 24, 2012
SITC Early Career Scientists Professional Development Session
October 24-25, 2012
SITC Workshop – Focus on the Target: The Tumor Microenvironment
October 25, 2012
SITC Primer on Tumor Immunology and Cancer Immunotherapy™
October 26-28, 2012
SITC 27th Annual Meeting
October 28, 2012
SITC Hot Topic Symposium: PD-1/PD-L1: Right on Target



SITC has opportunities and solutions available no matter what your goal!

SITC offers General, Marketing and Educational support opportunities for the Society as well as for all SITC educational programs.