Hot Topic Schedule
October 28, 2012
10:30am - 12:00 pm
Bethesda North Marriott Hotel & Conference Center
North Bethesda, MD
Presentations are posted online based upon presenter approval.
Program Schedule
10:30 am – 10:35 am
Welcome & Introductions
Suzanne L. Topalian, MD - Johns Hopkins University School of Medicine
10:35 am – 11:00 am
PD-1 Pathway Blockade In Cancer Therapy: Clinical Results And Future Development
Suzanne L. Topalian, MD - Johns Hopkins University School of Medicine
11:00 am – 11:15 am
Overcoming Tumor-Induced Negative Regulatory Pathways in Murine Models of Rhabdomyosarcoma
Steven L. Highfill, PhD - National Cancer Institute
11:15 am – 11:30 am
Ovarian Tumor-Infiltrating T Cells and Myeloid Cells Mediate Immune Suppression Through The PD-1/PD-L1 Pathway
Jaikumar Duraiswamy, PhD - University of Pennsylvania
11:30 am – 11:55 am
Considerations In Targeting PD-1, PD-L1, and Other Immune Checkpoints: Immunoediting and Mechanistic Perspectives
Ira Mellman, PhD - Genentech, Inc.
11:55 am - 12:00 pm
Closing Comments/Questions & Answers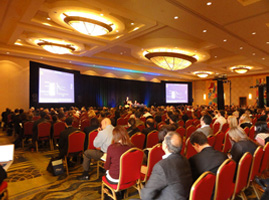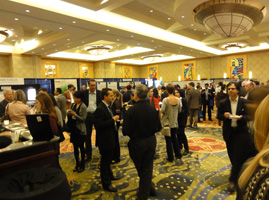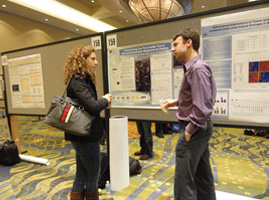 Go to SITC's YouTube channel to hear Annual Meeting Organizers talk about highlights of the meeting!
October 24, 2012
SITC Early Career Scientists Professional Development Session
October 24-25, 2012
SITC Workshop – Focus on the Target: The Tumor Microenvironment
October 25, 2012
SITC Primer on Tumor Immunology and Cancer Immunotherapy™
October 26-28, 2012
SITC 27th Annual Meeting
October 28, 2012
SITC Hot Topic Symposium: PD-1/PD-L1: Right on Target



SITC has opportunities and solutions available no matter what your goal!

SITC offers General, Marketing and Educational support opportunities for the Society as well as for all SITC educational programs.