SITC 27th Annual Meeting
October 26-28, 2012
Bethesda North Marriott Hotel & Conference Center
North Bethesda, MD
SITC is ideally positioned to meet the identified needs of our attendees. SITC's strength lies in its history of organizing successful scientific conferences that gather clinicians and scientists from around the globe to interact and discuss the most important issues in cancer immunotherapy. By addressing these needs, SITC advances effective, efficient research and interaction on promising cancer therapies with biological and immunological agents. Through its integrated programs, SITC promotes productive collaboration among scientists and with other organizations in the field. Ultimately this scientific exchange and collaborative environment will lead to better cancer patient outcomes with novel cancer immunotherapies.
The SITC 27th Annual Meeting program format and content was designed to address identified needs/practice gaps and promote:
Exchange between basic and clinical researchers, thus improving the caliber of the science and promoting translation
Discussion on potential hurdles in cancer immunotherapy from the trial design and regulatory perspective
Integrated understanding of the state of cancer immunotherapy research in today's environment, identification of potential funding opportunities, and mentoring of junior investigators
Discussion of novel therapies and applications based on the research presented
Interactions with industry to promote access to novel agents for clinical development
The SITC 27th Annual Meeting offered a unique forum for special updates, major national and international initiatives, and important society projects including:
National Cancer Institute (NCI) Update
US Food and Drug Administration (FDA) Update
Cancer Immunotherapy Trials Network (CITN) Update
World Immunotherapy Council (WIC) Update
Purpose
The SITC 27th Annual Meeting provided a multidisciplinary educational environment composed of cutting-edge research, informative oral presentations, poster presentations, and valuable networking opportunities unique to SITC.
Intended Audience
The audience for the SITC 27th Annual Meeting was basic and clinical investigators from academic institutions, industry and regulatory agencies, including clinicians, basic and translational researchers, graduate students, postdoctoral fellows, and allied health professionals involved in cancer research.
Program Goals
Exchange information on the most recent advances in tumor immunology and cancer immunotherapy
Convey recent advances in biology and immunotherapy as they relate to specific cancers and various immunotherapy modalities, cell subsets, animal models, and aspects of negative regulation in the tumor microenvironment
Identify promising research opportunities, new techniques, and clinical applications incorporating these advances
Establish dialogue between academia, industry, and government on these advances
Expected Learner Outcomes
Upon completion of this program, the participants were able to:
Summarize the most recent advances in tumor immunology and cancer immunotherapy
Integrate recent advances in cancer immunology and immunotherapy into basic, clinical, and translational research
Incorporate new research and techniques into clinical applications for cancer immunotherapy
Establish and solidify collaborations among the various members of academia, industry, government and clinical practices to promote clinical evaluation of these advances in more efficient trials
Organizers
Cornelis J.M. Melief, MD, PhD - Leiden University Medical Center
Antoni Ribas, MD - UCLA Medical Center
David F. Stroncek, MD - National Institutes of Health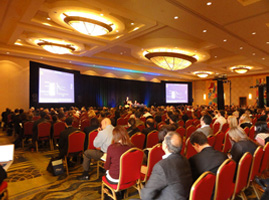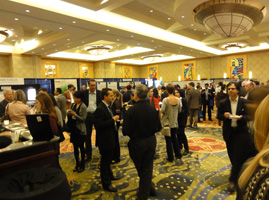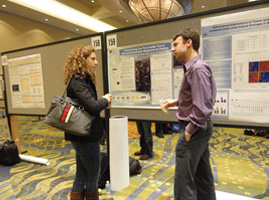 Go to SITC's YouTube channel to hear Annual Meeting Organizers talk about highlights of the meeting!
October 24, 2012
SITC Early Career Scientists Professional Development Session
October 24-25, 2012
SITC Workshop – Focus on the Target: The Tumor Microenvironment
October 25, 2012
SITC Primer on Tumor Immunology and Cancer Immunotherapy™
October 26-28, 2012
SITC 27th Annual Meeting
October 28, 2012
SITC Hot Topic Symposium: PD-1/PD-L1: Right on Target



SITC has opportunities and solutions available no matter what your goal!

SITC offers General, Marketing and Educational support opportunities for the Society as well as for all SITC educational programs.