Session Descriptions
T Cell Modulating Strategies
Friday, October 26, 8:45 am - 11:30 am
Multiple T cell subsets may be involved in responses to cancer. Pharmacological and genetic strategies allow specific selection or activation of certain subsets with higher potency to fight cancer. The functional activity of immune modulating agents and adoptive cell transfer therapy can vary depending on which lymphocyte subset is being activated. The phenotype and function of lymphocytes with greater ability to become memory cells, as well as progenitors to memory cells, are being defined; opening the door to their specific use in immunotherapy strategies.
DC Subsets/Cancer Vaccines
Friday, October 26, 1:30 pm - 3:00 pm
Dendritic cells (DC) continue to arouse interest because of their central role in initiation and regulation of cell-mediated immune responses. This year, the specialization in function of different subsets of human DC was highlighted, particularly with respect to their use in immunotherapeutic strategies. Recent advances in the use of different DC subsets in clinical trials were discussed as well as a comparison of immunotherapy with ex vivo prepared DC versus direct in vivo targeting of DC with cancer vaccines or other immuno-therapeutics.
Cancer vaccines come in different modalities. The specifications for cancer vaccines was discussed as well as the immuno-monitoring assays required to establish their mode of action and potency. In addition, the synergy of cancer vaccines with other cancer treatment modalities was highlighted, including synergy with chemotherapy, irradiation, and checkpoint control monoclonal antibodies.
Targeting Immune Suppression
Friday, October 26, 1:30 pm - 3:00 pm
Regulatory mechanisms counteract effective eradication of cancers by immune effector cells. The identification of these pathways has allowed the identification of novel strategies to potentiate immunotherapy of cancers. In this session, the nature of the most frequent inhibitory pathways was discussed; followed by their elimination in preclinical models and clinical trials. The session addressed targeting of Tregs, MDSC, CTLA-4, PD-1, IDO, and NO in the tumor microenvironment and elsewhere.
Immunity of Oncolytic Viruses
Friday, October 26, 3:15 pm - 5:15 pm
Oncolytic viruses selectively kill cancer cells while sparing normal cells. The mechanisms by which this has been achieved as well as further improvements in cancer cell selectivity were discussed. Preclinical models and clinical trials with oncolytic viruses were highlighted. Finally, oncolytic virus exploitation of immune mechanisms and the prospect of further enhancement of these by additional highly specific immunotherapy was discussed.
Combining Immunotherapy and Other Therapies
Saturday, October 27, 8:45 am - 11:30 am
As new generations of highly targeted therapies are being developed for the treatment of cancer, it is important to understand how they impact the immune system and how to combine them with immunotherapies. Many of these targeted therapies have high initial antitumor activities but are limited by the development of acquired resistance. Their combination with immune modulating agents may allow inducing more durable tumor responses. Since the targeted therapies are usually systemic therapies then they may have additional effects on the immune system, which may potentiate or counteract the antitumor activity of immunotherapies. Therefore, it is of great importance to gain a detailed molecular understanding of how they differentially impact on lymphocytes and cancer cells.
T Cell Manufacture and Potency Testing
Saturday, October 27, 1:30 pm - 3:00 pm
The clinical effectiveness of tumor infiltrating lymphocyte (TIL) therapy for the treatment of metastatic melanoma has improved as have the methods used to produce TIL. As a result, TIL treatment is becoming more widespread and multicenter clinical trials with centralized TIL processing are being considered. Progress in the development of centralized GMP methods for TIL production and the identification of possible TIL potency markers was discussed.
Single Cell High Throughput Technologies Immune Monitoring
Saturday, October 27, 1:30 pm - 3:00 pm
New technologies for immune monitoring are increasing our understanding of how the immune system can be turned on to fight cancer. Advances in immune monitoring allow multiparametric analyses in immune cells, which can more readily define the effects of immunotherapies compared to older platforms based on single readouts of effector functions or quantiation of lymphocytes with a particular tumor specificity. This includes the use of technologies that allow combined surface phenotype and intracellular signaling analyses of multiple proteins as well as multiplexed assays for time-course evaluation of immune responses.
Adoptive T Cell Transfer and Cell Therapy as Cancer Immunotherapy (CARS
)
Sunday, October 28, 8:00 am -10:15 am
Adoptive T cell transfer and cell therapy are evolving cancer immunotherapy approaches with promising clinical activity. These therapies are being used for a greater number of cancer patients and their efficacy is being improved by using selected T cell populations, reprogramming T cells, and genetically engineering T cells. The most recent scientific approaches and clinical trials were reviewed in this session.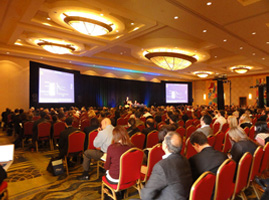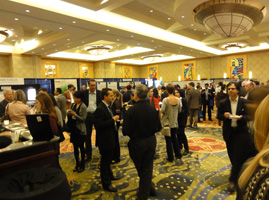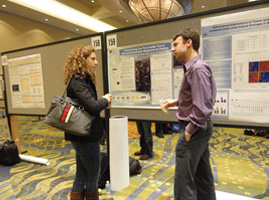 Go to SITC's YouTube channel to hear Annual Meeting Organizers talk about highlights of the meeting!
October 24, 2012
SITC Early Career Scientists Professional Development Session
October 24-25, 2012
SITC Workshop – Focus on the Target: The Tumor Microenvironment
October 25, 2012
SITC Primer on Tumor Immunology and Cancer Immunotherapy™
October 26-28, 2012
SITC 27th Annual Meeting
October 28, 2012
SITC Hot Topic Symposium: PD-1/PD-L1: Right on Target



SITC has opportunities and solutions available no matter what your goal!

SITC offers General, Marketing and Educational support opportunities for the Society as well as for all SITC educational programs.