SITC Hot Topic Symposium
PD-1/PD-L1: Right on Target
Sunday, October 28, 2012 | 10:30 am - 12:00 pm
Bethesda North Marriott Hotel & Conference Center
North Bethesda, MD
Program Purpose
Each year immediately following the conclusion of the SITC Annual Meeting, the Society hosts a 1½ hour Hot Topic Symposium to address a rapidly developing key issue in the field of cancer immunotherapy. In this final program, leaders in the field deliver dy­namic presentations on cutting-edge research and participate in interactive question and answer sessions with the audience. This year, the Hot Topic Symposium explored the latest scientific and clinical data on drugs and drug combinations targeting the PD-1/PD-L1 checkpoint pathway.
Immune checkpoints in the tumor microenvironment are potent mediators of local immunosuppression, and blockade of these pathways can rejuvenate antitumor immunity leading to tumor elimination. Clinical translation based on the prototypical checkpoint receptor, CTLA-4, has opened the door to a rich pipeline of related but nevertheless unique compounds. The PD-1/PD-L1 checkpoint pathway has recently emerged as a valid target for cancer immunotherapy; extending the reach of immunotherapy into common epithelial malignancies.
Intended Audience
The audience for this program was basic and clinical investigators from academic institutions, industry and regulatory agencies, including clinicians, basic and translational researchers, graduate students, postdoctoral fellows, and allied health professionals involved in cancer research.
Program Goals
Review the most current data on the negative regulatory influence and mechanism of the PD-1/PD-L1 pathway in the tumor microenvironment.
Describe treatment strategies targeting this pathway, including monotherapies and combination therapies in a broad range of indications beyond melanoma.
Present the latest clinical results with drugs designed to block the PD-1/PD-L1 pathway.
Expected Learner Outcomes
Upon completion of this program, the participants were able to:
Describe the cellular and molecular attributes of the PD-1/PD-L1 inhibitory pathway.
Discuss current research strategies targeting this pathway in cancer therapy.
Summarize the current results from clinical trials of PD-1/PD-L1 pathway inhibitors.
Organizers
Ira Mellman, PhD - Genentech
Suzanne L. Topalian, MD - Johns Hopkins University School of Medicine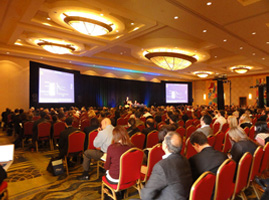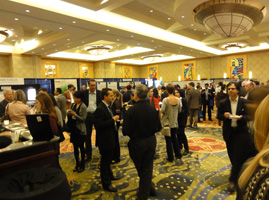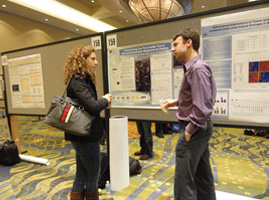 Go to SITC's YouTube channel to hear Annual Meeting Organizers talk about highlights of the meeting!
October 24, 2012
SITC Early Career Scientists Professional Development Session
October 24-25, 2012
SITC Workshop – Focus on the Target: The Tumor Microenvironment
October 25, 2012
SITC Primer on Tumor Immunology and Cancer Immunotherapy™
October 26-28, 2012
SITC 27th Annual Meeting
October 28, 2012
SITC Hot Topic Symposium: PD-1/PD-L1: Right on Target



SITC has opportunities and solutions available no matter what your goal!

SITC offers General, Marketing and Educational support opportunities for the Society as well as for all SITC educational programs.