SITC Workshop - Focus on the Target: The Tumor Microenvironment
October 24-25, 2012
Bethesda North Marriott Hotel & Conference Center
North Bethesda, MD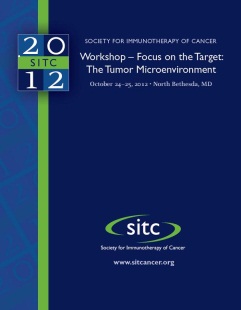 Program Purpose
The development of cancer has historically been attributed to genomic alterations of normal host cells, with cancer treatments historically targeting the malignant cell itself. It is now clear that tumor growth and development is a complex process that involves both malignant transformation and the influence of normal host cells, including fibroblasts, endothelial cells, lymphocytes, monocytes, and macrophages. The tumor microenvironment has emerged as a critical target for cancer diagnosis, prognosis, and therapy.

This two-day workshop on the tumor microenvironment included presentations from thought leaders in the field and covered topics from basic tumor immunobiology to clinical immunotherapy trials that incorporate agents that modulate the tumor microenvironment. It ended with a presentation of progress on the development of the Immunoscore, an ongoing initiative to promote the incorporation of an analysis of immune infiltrates within primary tumors as part of their standard pathologic evaluation for cancer diagnosis, prognosis, and therapy.
Intended Audience
The audience for this program was basic scientists and clinical investigators from academic institutions, industry, and regulatory agencies. The audience included clinicians, translational and basic researchers, graduate students, and postdoctoral fellows involved in cancer research.
Program Goals
Critically review the role of the immune system in cancer growth and progression and in cancer control and therapy.
Identify the distinct cellular and molecular components of the tumor microenvironment and how they interact in positive and negative ways with the host immune system.
Explore current data on the intersection of inflammation and immune infiltrates within the tumor site, defining mechanisms of immune cell trafficking, and identifying opportunities for therapeutic manipulation to improve immune-based therapies.
Discuss strategies for manipulating cells within the tumor microenvironment, including T cells, myeloid-derived suppressor cells, and other inflammatory cells, to promote tumor regression.
Review approaches for characterizing and monitoring immune responses within the tumor microenvironment, including novel imaging techniques, and innovative epigenetic and genomic technologies for profiling therapeutic responses.
Present what has been learned from successful clinical interventions that target the tumor microenvironment to enhance tumor immunity and highlight how to build on these observations to further improve cancer outcomes.
Discuss the progress, opportunities, and challenges involved in developing the immune score as one standard component of the pathologic evaluation of newly diagnosed cancers.
Expected Learner Outcomes
Upon completion of this program, the participants were able to:
Summarize how the immune system can promote evolving malignancies and, conversely, how it can control cancers and be harnessed for therapeutic benefit.
Explain the details of how a variety of cellular constituents and signaling pathways within the tumor microenvironment collaborate to promote tumor growth or regression.
Describe how immune cells gain access to tumors and how they can be characterized with new imaging techniques and measured with new technologies for both predicting and profiling responses.
Interpret the current rationale and clinical strategies for both profiling and therapeutically targeting the tumor microenvironment within cancer patients.
Describe the features and clinical relevance of the immune score and the challenges involved in harmonizing the methods and evaluation of immune infiltrates to facilitate the incorporation of the immune score into the standard pathologic evaluation of newly diagnosed tumors.
Organizers
Leisha A. Emens, MD, PhD - Johns Hopkins University
Jerome Galon, PhD - INSERM- Cordeliers Research Center
Samir N. Khleif, MD - Georgia Health Sciences
Samuel C. Silverstein, MD - Columbia University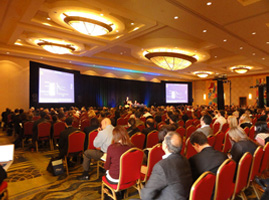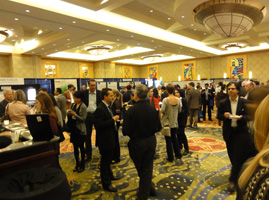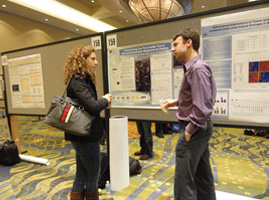 Go to SITC's YouTube channel to hear Annual Meeting Organizers talk about highlights of the meeting!
October 24, 2012
SITC Early Career Scientists Professional Development Session
October 24-25, 2012
SITC Workshop – Focus on the Target: The Tumor Microenvironment
October 25, 2012
SITC Primer on Tumor Immunology and Cancer Immunotherapy™
October 26-28, 2012
SITC 27th Annual Meeting
October 28, 2012
SITC Hot Topic Symposium: PD-1/PD-L1: Right on Target



SITC has opportunities and solutions available no matter what your goal!

SITC offers General, Marketing and Educational support opportunities for the Society as well as for all SITC educational programs.