Young Investigator Activities
The Early Career Scientists (ECS) Committee was established to partner with SITC leadership to address the needs of early career scientists in the fields of immunology and biological therapy.
Members of the Committee include students, postdoctoral fellows, and early career professionals in academia, industry, and regulatory agencies. ECS Committee members participate in many activities and continually seek opportunities for early career scientists to advance SITC's mission and programming. The main goal of the committee is to leverage society relationships and resources to enhance the career development of outstanding young investigators in the field.
The Early Career Scientists Committee organized the following events at SITC's 27th Annual Meeting to connect early career scientists with leaders in the field of cancer immunotherapy on a variety of career development topics.
Professional Development Session - This educational, half day session on Wednesday, October 24 from 1:30 pm - 5:30 pm was intended to educate early career attendees in a large group didactic setting about relevant career development topics that leads to successful scientific careers in cancer immunotherapy and an opportunity to network with leaders in the field. Pre-registration was required.
An informal evening networking event for the SITC Early Career Scientists Committee was also offered on Friday, October 26 from 8:00 pm - 10:00 pm.
The "Meet-the-Expert" Breakfast on Saturday, October 27 from 7:00 am - 7:45 am offered the opportunity to interact with experts and discuss topics related to career development. The breakfast was free to attend, however, registration for the SITC 27th Annual Meeting and the breakfast was required.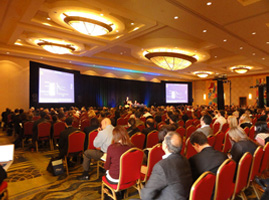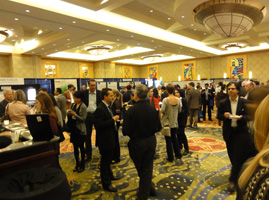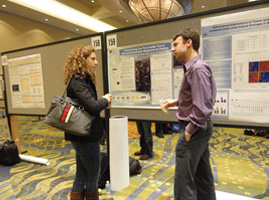 Go to SITC's YouTube channel to hear Annual Meeting Organizers talk about highlights of the meeting!
October 24, 2012
SITC Early Career Scientists Professional Development Session
October 24-25, 2012
SITC Workshop – Focus on the Target: The Tumor Microenvironment
October 25, 2012
SITC Primer on Tumor Immunology and Cancer Immunotherapy™
October 26-28, 2012
SITC 27th Annual Meeting
October 28, 2012
SITC Hot Topic Symposium: PD-1/PD-L1: Right on Target



SITC has opportunities and solutions available no matter what your goal!

SITC offers General, Marketing and Educational support opportunities for the Society as well as for all SITC educational programs.