Exhibits & Other Marketing Opportunities
The information provided below is an overview of the exhibit opportunities that were available at the SITC Annual Meeting. Stay tuned for more information about future booth packages, rates and applicable guidelines for 2014.
Why Exhibit?
Meet the global thought leaders in cancer immunotherapy
Interact with key investigators and clinicians who evaluate and purchase your products/services
Gain Insight into new and innovative uses of your products/services by speaking with experts on the cutting-edge of the science
Generate new leads
Achieve your sales/business development objectives
Who Should Exhibit?
Biotechnology companies
Pharmaceutical companies
Scientific supply companies
Research companies/agencies
Consulting groups
Informatics/analysis firms
Medical equipment suppliers

Data management companies
Medical device manufacturers
Regulatory agencies
Medical publishers
Cancer organizations/foundations
Universities/hospitals/research institutions
Exhibit Booth Packages
click image to view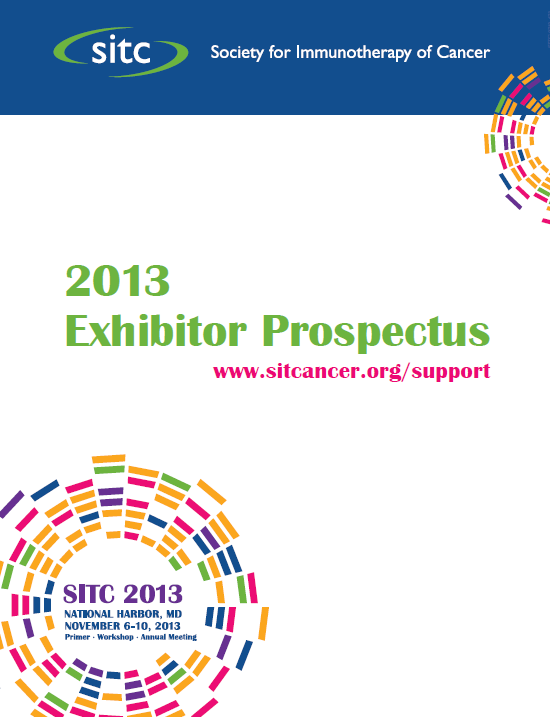 Three different booth options and pricing are available to meet your needs including Basic, Deluxe and Premier packages. More details about each package as well as the application form can be found in the Exhibitor Prospectus shown here.
Basic Exhibitor ($1,500)
Deluxe Exhibitor ($5,000)
Premier Exhibitor ($10,000)
Click here to view the Exhibit Hall Floorplan.
Exhibitor Benefits
Exhibitors enjoy numerous benefits*, including:
Advertising Discount
Annual Meeting Registration
Guest Registration
Mailing List Rental
*Benefits contingent with exhibit booth package level
Official Exhibit Service Contractor
Heritage Exposition Services was selected as the official exhibit service contractor for the SITC 28th Annual Meeting. Heritage offered equipment rental, material handling, booth cleaning and labor services to all exhibitors. Orders were placed through the exhibitor service kit and Heritage will assure all work is performed in accordance with local union and/or facility regulations and requirements. Exhibitor service kits were distributed by email following the exhibit application deadline of September 13, and will be available here. Heritage Exposition Services will be available to address exhibitor questions and service all on-site needs.
Additional Marketing Opportunities
Advertisements
Get your logo and key messaging to program attendees, website viewers and SITC members and non-members alike. The newly redesigned Society and meeting-related websites includes easier navigation and more robust professional resources.

Individual Item Support
SITC offers organizations interested in reaching the important stakeholders at the SITC meetings opportunities to have their logo seen by attendees in prominent locations. A listing of the available items for marketing is outlined on the Support Opportunities Guide found on the Supporter Page. All item marketing requests will be considered.

Host an Ancillary Event at SITC
SITC welcomed companies, academic institutions, cooperative groups and other such organizations to hold an ancillary event at SITC 2013.
Additional Support Opportunities Included:
Final Program and Syllabi
Forward Fund
General Program Support
General Society Support
Young Investigator Activities
For more information on all support opportunities SITC has to offer, click here.
A "can't miss" opportunity for one-on-one contact with all the people you need to see.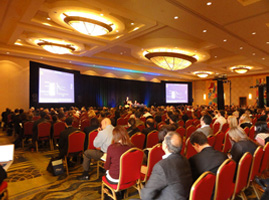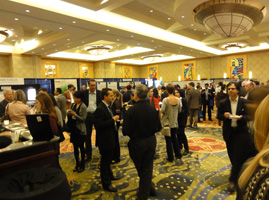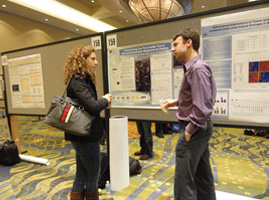 Support Information
Thank you to all SITC 2013 supporters!

Confirm your support for SITC's 2014 programs today! Click here for more information.
Annual Meeting Supporters
Platinum
Gold

Silver
Genentech
Janssen
MedImmune
Prometheus Laboratories
Bronze
Amgen
Celgene Corporation
Provectus Pharmaceuticals
Copper
Argos Therapeutics

Center for Cancer Research
National Cancer Institute
National Institutes of Health
Department of Health and Human Services

Immuneering Corporation

Lonza Walkersville

Oncothyreon

Prima BioMed