SITC 2016 Live!
Browse the SITC 2016 Photo Gallery
Hover over the gallery to scroll through images from the 31st Annual Meeting & Associated Programs.
Sunday, November 13
Last Day at SITC 2016: Value Summit
Hello delegates! Thank you all for joining us at the SITC 2016 Annual Meeting & Associated Programs.
We've reached our final day of the conference with our much-anticipated Value of Cancer Immunotherapy Summit.
We begin the Summit with an introduction from SITC President Howard Kaufman before a pair of sessions both featuring panel discussions:
Session I: Current Landscape of Cancer Therapy Value Models, Economic Outcomes, and the Patient Perspective
Session II: Perspectives on the Value of Cancer Immunotherapy
For a program summary of the Summit and to view a full schedule with listed speakers, click here.
If you missed our Award Ceremony Friday evening, you can view a list of the recipients here.
Saturday, November 12
Smalley Lectureship, CheckPoints Party Highlight Day's Events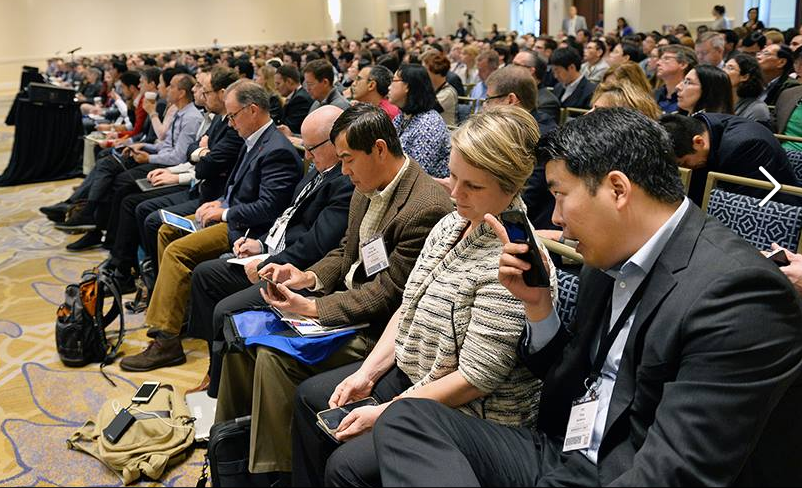 We have another jam-packed day at SITC 2016 Annual Meeting.
We begin with a Biomarkers Task Force Update from Dr. Lisa Butterfield, the society's incoming President. The anticipated Richard V. Smalley, MD Memorial Lectureship is scheduled for 7:55 a.m. in the Maryland Ballroom. SITC President Dr. Howard L. Kaufman will introduce Dr. Suzanne L. Topalian of Johns Hopkins University, who will in her Keynote Address discuss PD-1 Blockade in Cancer Treatment -- Immunotherapy Meets Precision Medicine.
For a complete schedule, scroll to Saturday's listing of programs on our Annual Meeting schedule page.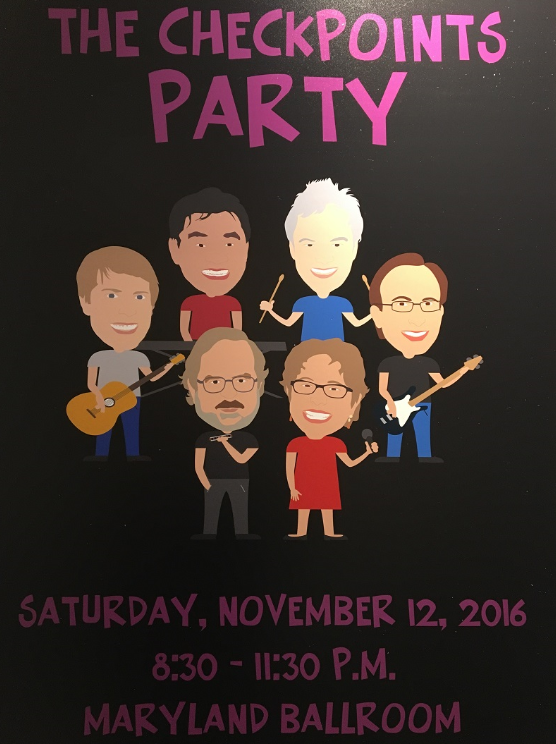 Also, don't forget to join us tonight in the Maryland Ballroom for The Checkpoints Party. SITC's famed house band will begin their performance at 8:30 p.m.
Click here to prepare for the show by viewing a performance from the band earlier this year.
Friday, November 11
SITC 2016 Mid-Conference Report
As the premier advocate and resource for cancer immunotherapy for more than 30 years, SITC is proud to again provide a global forum for all stakeholders to examine cutting-edge data, engage in scientific exchange and build relationships that help propel the field forward.
Today, with a number of approaches demonstrating clinical benefit to patients in a variety of cancer types, it is no surprise that SITC 2016 has yet again broken society records.
Read more about news coming out of our variety of sessions in the SITC 2016 Mid-Conference Report.
Welcome to the SITC 2016 Annual Meeting
Following two days of programs that include the New Agents session on Wednesday, and the Primer and Workshop sessions on Thursday, we are kicking off our 31st Annual Meeting.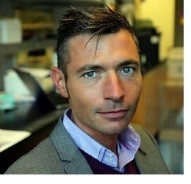 We are starting the day with a touching tribute to Dr. Holbrook Korht from his friends and colleagues. Click here to learn more about Dr. Kohrt's life and the incredible contributions he made to the cancer immunotherapy field.
For a detailed schedule of today's programming, click here to visit our conference schedule page.
Don't forget to join the conversation by tweeting with our official conference hashtag, #SITC2016. Also, Like us on Facebook and view additional updates and photo galleries of the week's events.
Thursday, November 10
SITC 2016 Workshop and Primer on tap
We have a full day on tap of scientific exchange and learning opportunities at SITC 2016.
Registered attendees can receive their materials at the SITC registration desk, but to access an online schedule of today's activities, please click the following links:
Also, don't forget to join us for food and drinks tonight at the SITC Business Meeting! The meeting will take place at 5:30 p.m. in the Cherry Blossom Ballroom.
View more photos from Day 1 of SITC 2016 by visiting our Facebook gallery.
Wednesday, November 9
Follow SITC 2016 on social media, use #SITC2016 hashtag
For SITC 2016 attendees who are also active on Twitter, join the conversation by using the #SITC2016 hashtag. If you do not yet have an account on Twitter, click here to visit their website to do so.
Follow along with the activity on the hashtag by viewing our TweetBeam wall. The wall will also be displayed on a video screen near the SITC registration area beginning Thursday.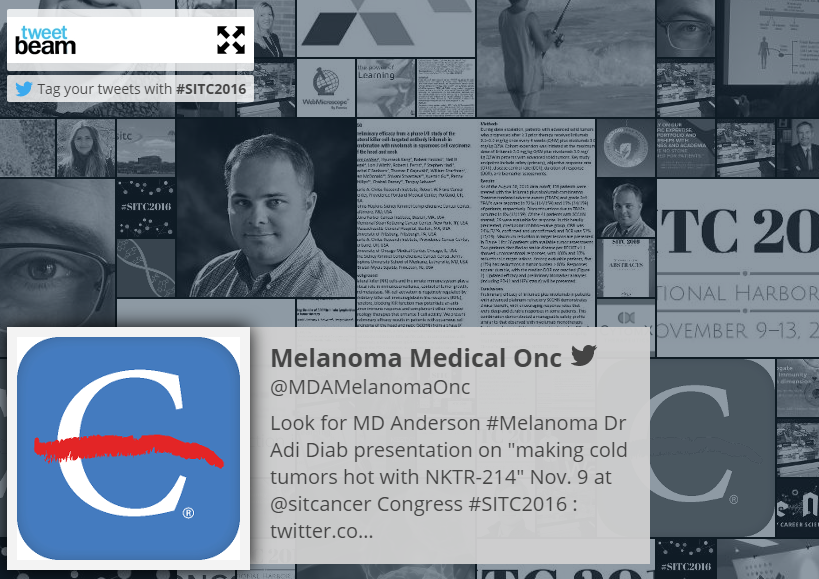 Also, Like us on Facebook and view more photos from the programs and festivities at SITC 2016 in National Harbor.
New Cancer Immunotherapy Agents in Development
SITC kicks off the festivities in National Harbor today with the "New Cancer Immunotherapy Agents in Development" session beginning at 11 a.m. in the Cherry Blossom Ballroom.
Click here to read more about this program's purpose. Also, view the detailed scheduled to learn who is presenting and on what topics.
Express registration is open from 9 a.m. to 4 p.m. in the Cherry Blossom Foyer. SITC staff will be there to help you receive your materials.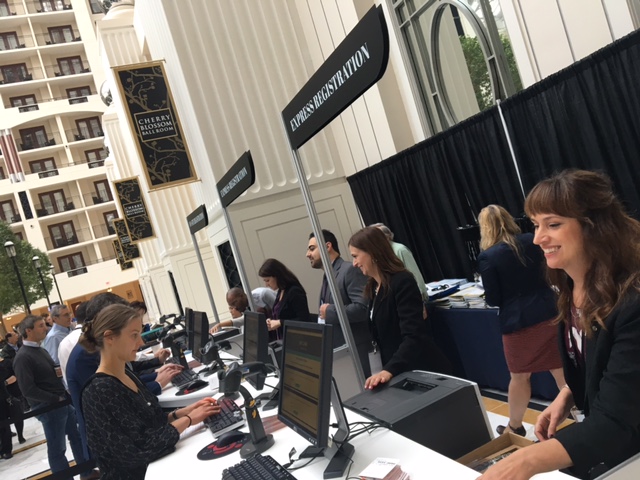 Welcome to National Harbor!
Tuesday, November 8
SITC 2016 Abstracts Now Available
The regular abstracts are now available in an online supplement of the Journal for ImmunoTherapy of Cancer (JITC). The abstracts are provided in a two-part PDF download. Click the links below to access the abstracts:
Also, access all abstracts in the SITC 2016 Final Poster Book (PDF).
Late-breaking abstracts will be available today in the mobile app before being published in a separate JITC supplement December 8. The mobile app is available for download in the App Store (iOS) and Google Play (Android).
Monday, November 7
SITC Short Film: Leading the Cancer Immunotherapy Evolution
Stay tuned to this page for live updates from National Harbor, MD during SITC 2016. In the meantime, watch our short film, "SITC - Leading the Cancer Immunotherapy Evolution" embedded above.